Fly fishing both Pyramid Lake and the Truckee River has been productive through March. As the storm systems continue to roll through the region, fishing opportunities will remain consistent through the end of the month. Pyramid Lake has fished well despite the lower than normal water temperatures and lack of cruising fish. When water temperatures increase, the bite should be red hot. The Truckee River has also fished well despite the daily change in flow conditions. Enjoy the weekend and we hope to see you on the water!
Pyramid Lake
Fly fishing at Pyramid Lake has been fantastic through the middle of March and should only increase in productivity through the end of the month and into April. With the constant barrage of storm systems for much of the winter, water temperatures at Pyramid Lake have remained low. As a result, cruising fish have not been seen in as many numbers as this time last year. Fortunately, fishing has picked up in the last few days and fish have been caught in increasingly shallow water. When fishing rocky beaches, the indicator setup has produced good numbers of fish and even a few large fish in the 15 lb+ range. Chironomid and midge patterns have been very effective in a range of sizes and colors. Balanced Leeches continue to fish in low light conditions either before sunrise or after sunset within the legal fishing time. If the waves grow and make fishing a Holo Midge difficult, a Balanced Leech is a great substitute since it is a bit heavier. Leeches have a bigger profile and tend to work better in the stormier conditions.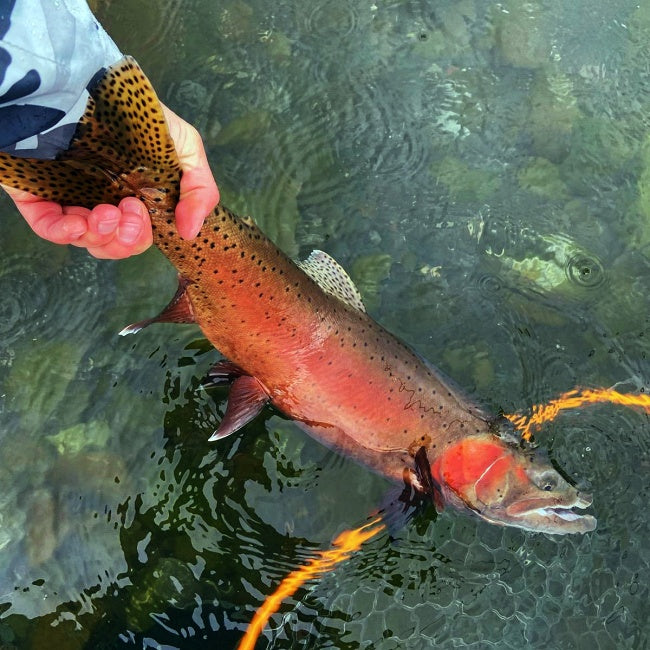 While the standard Holo Midges (Albino Wino, 49er, Black/Copper, Brown/Red) have caught plenty of fish, this is the time of year where you can get creative with your midge color combinations. We have multiple new beadhead colors available in the shop such as Metallic Brown, Metallic Red, Metallic Purple, and Chartreuse to spice up your own midge box. Additionally, adding a wing, shuck, or gill to the midge can be effective as well. Adding materials such as Krystal Flash or Glo Brite can help the fly stand out in the water. Swing by the shop and we'd be happy to help you upgrade your midge game.
The strip bite at Pyramid Lake has also hit stride with many Summits and Pilots showing up on shallower beaches. As the trout begin to school up and work the shoals of Pyramid Lake, flies such as the Mopcorn Beetle and the Midnight Cowboy are great choices throughout the day. Stripping flies on a sinking line allows an angler to present the fly across a greater range of depths as compared to indicator fishing. 
This technique is especially effective when fish are roaming flats in 5-10' of water. Since there is no significant ledge or dropoff on these beaches, the fish aren't restricted to a specific area. With warmer temperatures approaching, algae and vegetation will begin to grow on the bottom of the lake. When this happens, switch over to two floating flies like the Booby fished in tandem with a Pyramid Lake Beetle. This helps to keep the flies elevated off the bottom of the lake and reduces snagging on the lake bottom. If the issue persists, try lengthening your leader slightly until your flies stop snagging bottom. 
Flies we Suggest: Pyramid Lake Beetle, Mopcorn Beetle, Pyramid Lake Bugger, Micro Midge, Holo Midge, Balanced Leech, Mini Jig Leech
Truckee River
The Truckee River has dropped into shape nicely after a large storm around the middle portion of March. While the river did blow out for a few days following the spike in flow, clarity has improved drastically and fish have settled into feeding lanes. At the time of this writing (3/23/23), flows at the Reno gauge are reported as 722 cfs. This is a fantastic flow and allows for a variety of techniques to be effective. 
Nymph fishing is your best bet for putting wild trout in the net. Fishing a tandem rig with two heavy nymphs has been working well. While there is still a slight tint of green in the river, rainbows and browns have been eating small flies well. When fishing two nymphs, try using a flashy or big fly followed up by a smaller fly. The attractor could be something such as a Squirmy Worm, TJ Hooker, Polar Jig or any other flashy nymph. For a trailing fly, the Carot, Red Perdigon, Hot Spot, or Spanish Bullet would be a great choice. Fish have surprisingly eaten flies down to a size 18 in the higher flows and off color water conditions. Feel free to experiment and try different presentations as each day is different.
Streamer fishing has also been productive in the last week or so. The high flows tend to push fish toward the bank. From the anglers perspective, this can be an opportunity to catch a big fish off guard in a non-typical holding spot. Streamer fishing in and around cover along the bank is a great tactic for finding a big fish right now.
While streamer fishing in these conditions can be difficult- a little persistence can go a long way. Flies such as the Heisenberg in white or the Cheech Leech in tan will grab a brown trout's attention and set off the predator-prey instinct. With spring runoff looming, take advantage of the great conditions we currently have!
Flies we Suggest: Squirmy Worm, TJ Hooker, Polar Jig, Carot, Red Perdigon, Hot Spot, Spanish Bullet, Heisenberg, Cheech Leech
[OPTINFORM]