This January will go down in the record books as the wettest January ever. It didn't just barely break the previous record set back in 1973 (159 inches) it demolished it with 237 inches! It is mind blowing how much snow and rain fell in just three weeks! It has left us at 80% of the seasonal average while only being 43% through the season at 7000 feet and over 90% above 8000 feet*.
*all statistics are taken from the Tahoe Weather Facebook page and Bryan Allegretto of Open Snow https://opensnow.com/dailysnow/tahoe/post/7344
This deluge of precipitation has left most of us fly fishermen grounded, compounded by Pyramid lake being closed to all angling activities and twiddling our thumbs waiting for a window of good weather to try and fish.
That window is upon us! Following a three day storm this week we are looking at a high-pressure system moving in that will keep us mostly dry for the better part of a week. The river gauge through downtown reno is right at 500 CFS and falling slowly. I personally like to fish the river under 500 cfs, but I will take what I can get and will be out fishing every chance I get.
---
Here are a few ideas for fishing the Truckee between storms
Have multiple places staked out: Snow is coving the ground along most of the river. In some places, it is high enough to keep anglers with the tallest trucks away. Have several spots in mind. Don't pick the spot you love in hopes that it is accessible, plan for many different options with differing terrain and locations available. If you are stuck thinking of different spots come by the shop and we will make a suggestion.
Fish heavy: Cushions of "soft" water will be present at the bottom of rivers giving fish areas to hold in. Adding an additional split shot or two right above your point fly could be the difference between catching fish and getting skunked.
Read the water differently: Higher water will change the way that the river fishes. Most of the water will be unsuitable for fish to hold in because its flow is too great, and their metabolism is too slow. This will condense fish into deep slower currents, back of pools, eddies, and pockets. If you are successful in catching a fish keep fishing that area as its very likely more fish are present.
Fish the banks: Most of the softer water that the fish can hold in will be closer to the bank. Be careful wading, you don't want to walk onto holding fish, and fishing in flows around 500+ cfs can be difficult.
Ditch the indicator: As stated above cushions of slow water are present under faster water. Using an indicator will move your flies at the same speed as the surface making nymphs look unnatural. Euro style nymphing is very effective in fast water as the only contact your rig makes with the water is the tippet. Use tuck casts to get flies down quickly. We have available Modern Nymphing by Lance Egan and Devin Olsen for anybody who would like to take their high stick nymphing to the next level.
Check out episode 27 of the Reno Fly Shop Podcast with Lance Egan
Throw some meat: Streamers and crayfish patterns can be very effective in long deep runs. Presented slowly these patterns can get even the coldest fish to move and grab a big meal. Switch rods and sink tips make streamer fishing easy and fun. Be sure to use a fast-enough sink tip to keep flies in the strike zone and mend upstream as necessary to keep streamers moving slow. I like to fish Dead Drift Crayfish patterns up stream on floating lines with long leaders, dead drifting them back to me under constant tension. George Daniels "Strip Set" is an invaluable guide to fishing streamers and is also available here in the Reno Fly Shop.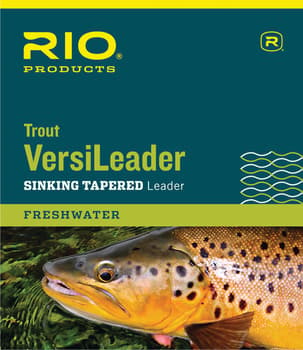 I hope you will employ some of the ideas and techniques that have worked for me in the past. Be safe in faster water and good luck! Swing by the Reno Fly Shop and let us know how you do.
Mike Anderson
*If you are interested in learning more techniques or how to use them give us a call here at the Reno Fly Shop and book a trip fishing with Mike.  He can spend some time covering these details and many more. Call the shop toay,  775-323-3474.
---
Mike Anderson is a guide and instructor at the Reno Fly Shop.  As a native Nevadan he has grown up fishing Pyramid Lake and the Truckee River. Mike spends many days each year at Pyramid Lake fishing, guiding, tying specialty flies and observing this amazing resource he is lucky to call his "backyard". Call the Reno Fly Shop today to book at trip and experience this world class fishery.