Water conditions have changed drastically on a daily basis around the Reno-Tahoe area. As a result, multiple fisheries in the region have fished well at one point or another. With the recent warm weather, lakes such as Davis and Frenchman's are icing off and are beginning to fish in typical spring fashion. The Truckee River was high and off color in the last week but should drop in flow somewhat with an improvement in water clarity. Pyramid Lake continues to fish well into the first part of May with the lasting cold water temperatures. While this time of year can challenge anglers, the reward is out there for those who seek it! We hope to see you on the water.
Truckee River
While the Truckee River has run at high flows over the last week, it has continued to fish well for those venturing out. The storm this week has cooled off the entire region and has resulted in a drop in flows on the Truckee River. As of this writing, flows are 2700 cfs at the Reno gauge. This is great news for anglers going into the weekend looking to fish. With continued cool weather, flows are expected to continue to drop. Additionally, water clarity will improve rapidly as the flows drop. Clearer water is certainly a benefit to anglers and should help you put a few fish in the net.
Check out our 5 Tips for Fly Fishing High Water recently posted to the site. This article is a great reference point to help dial in your high water techniques. While conditions may be daunting, the payoff can be substantial as some of the biggest fish of every year are caught during this time.
Fly selection will vary depending on the type of water you are fishing during runoff. Oftentimes, inside bends provide slow and approachable water. Fish will hold in shallow and deep water this time of year- wherever they can find feeding lanes. For water less than three feet of depth, lead flies such as the Squirmy Worm and Pat's Rubber Leg work great. In deeper water, flies like the Polar Jig and local favorite TJ Hooker will get down quick when required. Smaller mayflies, caddis, or yellow sallies in a size range of 12-16 work great when water clears beyond two feet of visibility. The Carot, Hot Cheek, OCD Caddis and Thread Quill are all great choices.
Flies we Suggest: TJ Hooker, Pat's Rubber Leg, Polar Jig, Squirmy Worm,  Carot, Hot Cheek, OCD Caddis, Thread Quill
Pyramid Lake
Pyramid Lake has continued to fish better than previous years with the cool temperatures in the air and water. The anticipated spawn is in full effect and fish are cruising shallow areas by the hundreds. While not every cruising fish will feed during this time, the ones that do make for consistent fishing through all types of weather conditions. 
The strip bite has been most effective in the last week or so. Flies stripped at a rapid rate have worked well in areas of two to eight feet of depth. With water temperatures gradually increasing, vegetation and algae are starting to grow on the lake bottom. This is a yearly occurrence in the spring and requires a modified approach when fishing. A tandem rig of two floating flies is a great choice right now. This method provides a lot of movement for the flies and keeps them above vegetation and in front of fish. If the flies are too heavy or fished along the lake bottom, you will likely be pulling weeds off your fly on every cast. The Mopcorn Beetle paired with a Deadpool Booby has been a great combination and should remain effective over the next week or so.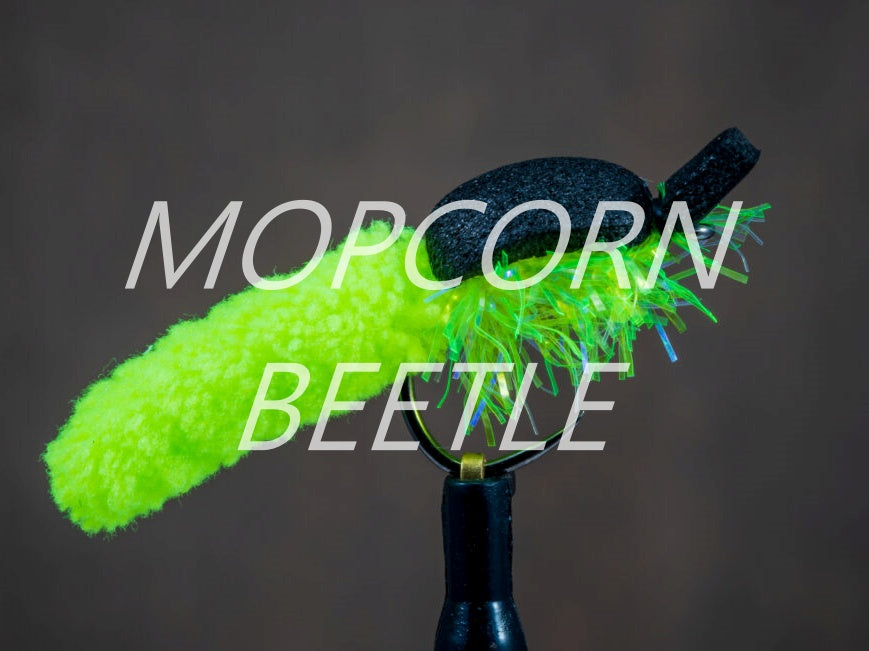 The indicator bite has slowed substantially over the last week. Midge fishing has been sporadic and seems to be winding down for the season. On the flip side, Balanced Leeches have become more effective and fish are beginning to key on bigger presentations. Color choice should represent Tui Chub or Perch Fry as the water temperatures increase. 
Flies we Suggest: Mopcorn Beetle, Tadpole, Pyramid Lake Beetle, Balanced Leech, Mini Jig Leech
Other Local Waters
Lake Davis
Lake Davis has just begun to thaw out after a long winter. With each passing day, the lake continues to open up along the edges. As the edges thaw, trout cruise the open water looking for food. Leeches and chironomids will be top producers following ice out. The edge where ice meets open water can fish well since the ice provides cover for the trout from hungry predators flying above. Indicator fishing can be good in these areas since the flies are presented in target zones for long periods of time.
Frenchman's Reservoir
Frenchman's is ahead of Davis in terms of ice coverage and is completely ice-free at this point. As water flows into Frenchman's, it is bringing turbidity and color to the lake. Looking for mudlines and changes in water clarity can provide good target points for rainbow trout. Indicator fishing as well as sinking line techniques have worked equally well in the last week. With water temperatures being cold, the presentation needs to be slow for fish to grab. Leeches, chironomids, and baitfish are the main food sources for fish at Frenchmans.